Use the right gloves and hand protection :-
The work place can create many hazards for your hands . Leather gloves are best for protection from rough objects, spark and heat.
All kind of Leather provide comfort, durability dexterity, abrasion, protection, and medium heat protection . Leather gloves are favourite for industrial workers since long . Cow Leather is most commonly used within glove industry due to comfort, durability, abrasion, resistance, and more breathability. Chrome tanning of the Leather gives greater wear and heat resistance.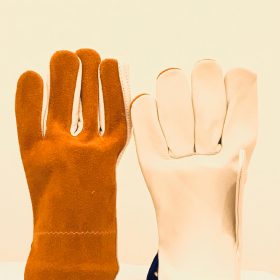 We advice the user to use the thicker Leather gloves in hand protection. The longibity of the gloves is more than thinner one, as well abrasion, cut, tear, puncture are on  high, thus protect the user hand better than other gloves . Cow Leather always provide more dexterity then other Leather .
Worker's hand should be more secure and protected At work place .
Our slogan is : BE SAFE AT WORK PLACE . WE CARE